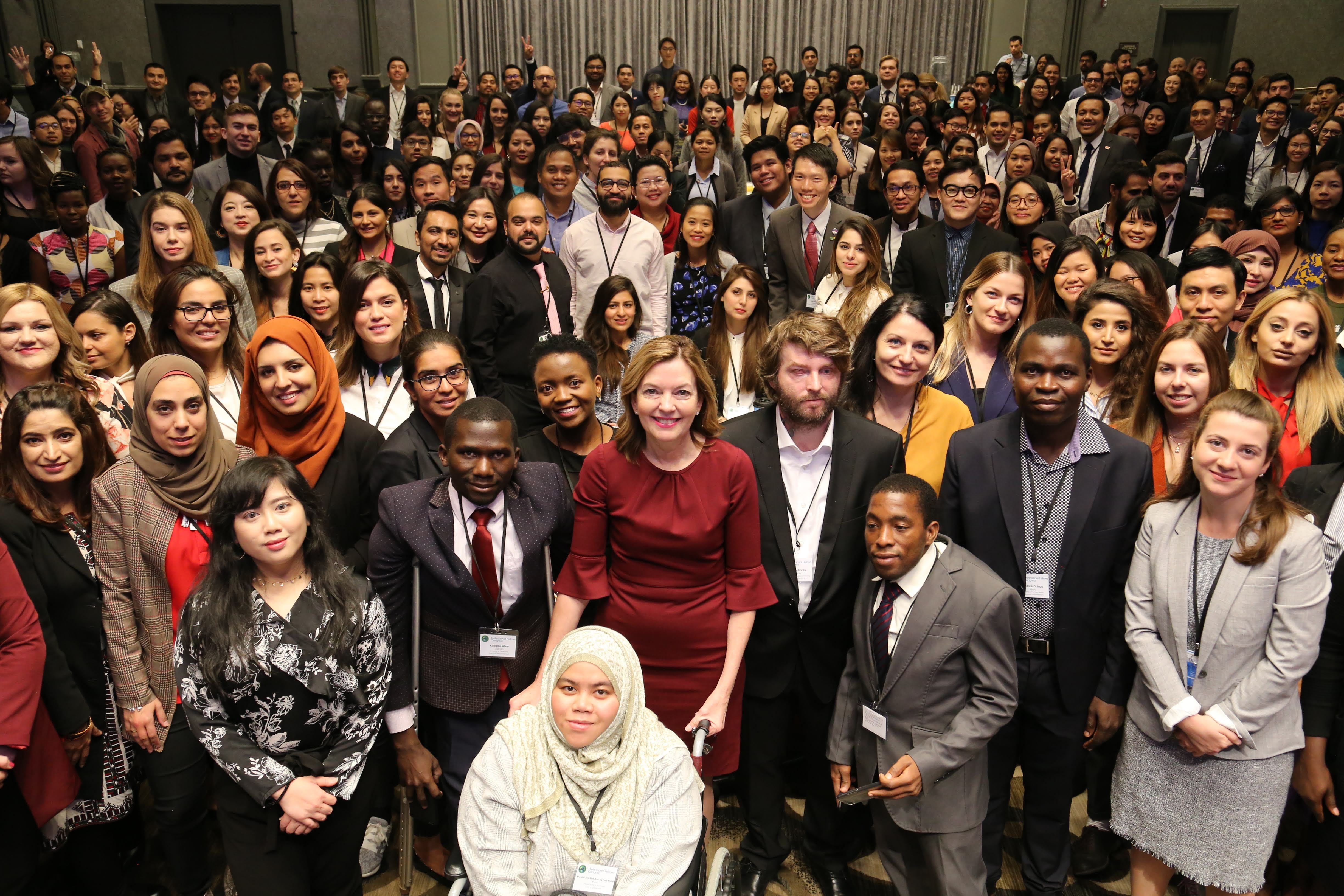 Amplifying Impact Together
The 2020 Professional Fellows Congress will provide you with the opportunity to:
network with colleagues from around the world and share experiences in order to make connections that will help you meet future goals;
examine ways that individuals and organizations can generate change for the common good;
and advance your leadership and professional skills.
This virtual conference has been developed specifically for YOU - the 2020 Professional Fellows.
As a group of over 300 young leaders across the globe, you hail from more than 60 countries and 5 continents; your professional backgrounds include everything from community organizing to tech entrepreneurship, and your diversity is unmatched.
The common thread connecting you all is your commitment to making a positive change for your community and your home country.
We have been forced online due to the global pandemic, but we see this year as an opportunity to provide tools for ongoing virtual connection for this impressive network of peers. We hope you will use this Congress to find new partners, explore new leadership techniques, and reignite your passion to change our world for the better. We hope you will share your experience on social media as you participate in our Virtual Congress.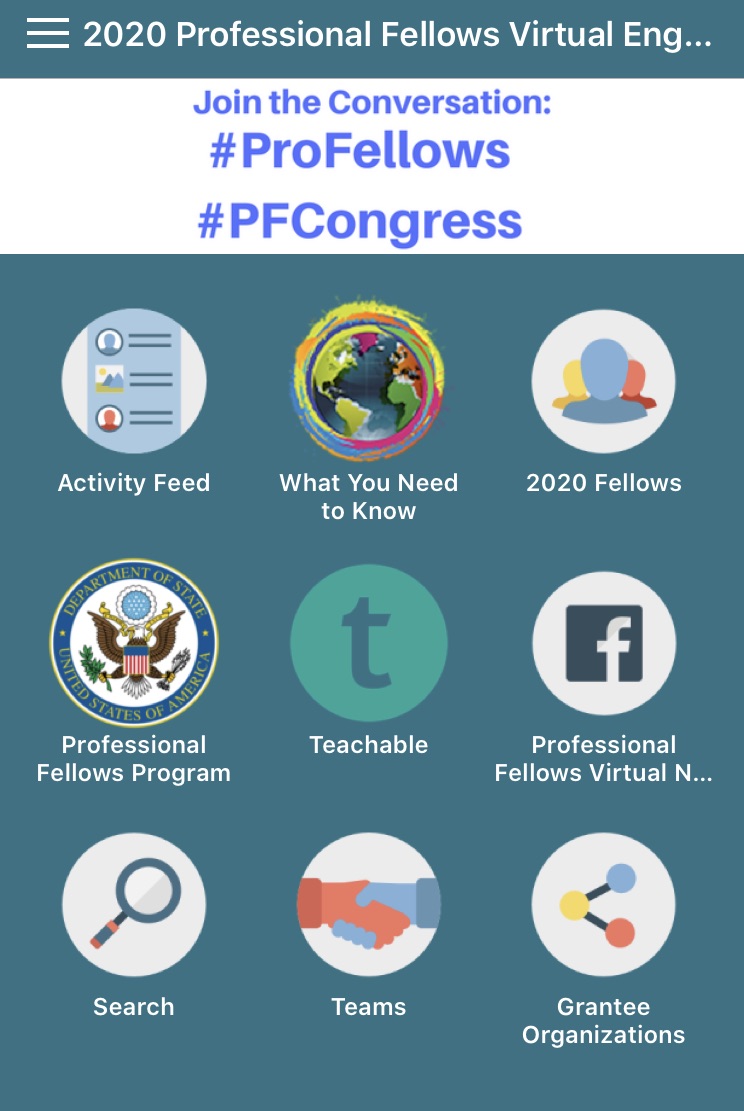 Register with the 2020 Professional Fellows Virtual Engagement App to make the most out of our Congress! Connect with other Fellows through messaging and profiles, message the group through the Activity Feed, and play our game. Find quick links to all virtual program information here!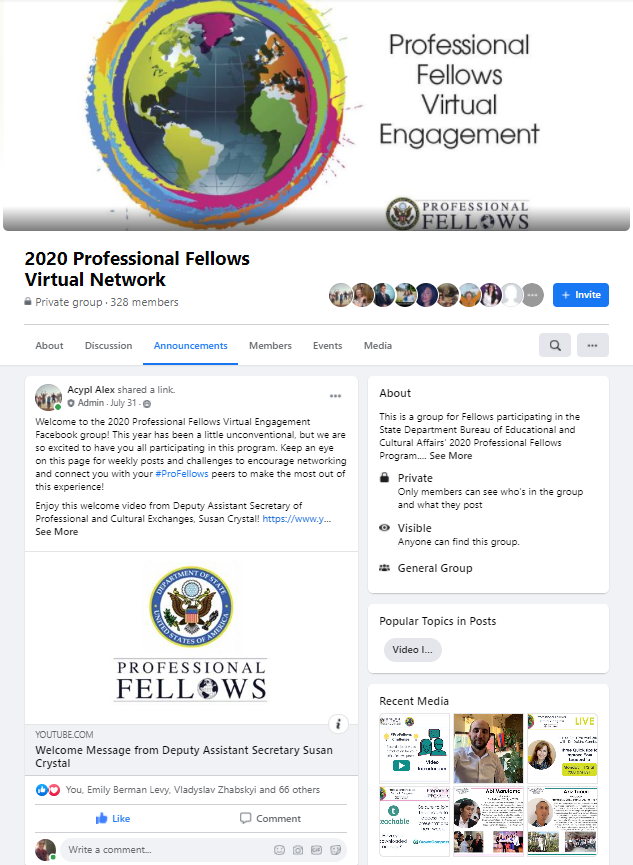 Sign into our Facebook Group to be a part of all of the challenges and view content for the 2020 Professional Fellows. Join the event page created for your Team to meet fellows with common professional interests and goals, upload a short video introducing yourself, and be a part of the conversation!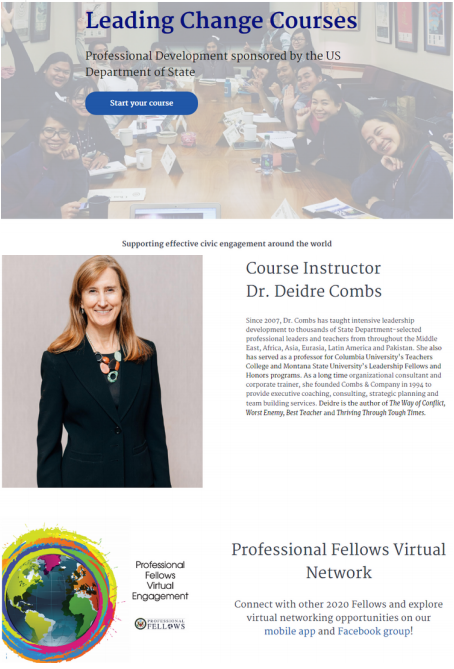 Enroll in the Leading Change Course here on Teachable led by Dr. Deidre Combs to experience a leadership development program designed especially for YOU. Dr. Combs has led this course for over 1000 Professional Fellows over the last five years, and the 2020 Course is more robust than ever before.
Made Possible by the
U.S. Department of State
Bureau of Educational and Cultural Affairs
The Professional Fellows Congress is a program of the U.S. Department of State with funding provided by the U.S. Government, administered by the American Council of Young Political Leaders (ACYPL).
The Professional Fellows Program is sponsored by the U.S. Department of State with funding provided by the U.S. Government, and is supported in its implementation by 15 U.S. not-for-profit organizations